The Freeletics workout app is the fastest growing workout app on the market. Why? It's popularity is due to the fact that it that incorporates high intensity interval training and your phone to help you shred fat, get lean, and perform like an athlete.
Unlike other at-home workouts, with Freeletics you don't need a dvd, cd, or an expensive weight set. All you need is your smart phone and an internet connection. This app can be downloaded for FREE and you can get started right away.
What is Freeletics?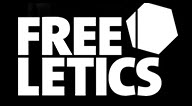 First and foremost, Freeletics is more than a workout or weight-loss app, it's a sport. Free athletes everywhere use their phone to find workouts and track performance, which the app then ranks you against others.
The workouts are made up of bodyweight only exercises that are designed to take your body to peaks of intensity using full-body movements like burpees, push-ups, pull-ups, and sprints.This program does not require you to buy cds or dvds and it's cheaper than any infomercial workout you will ever find.
You can download it right now and get started doing the free workouts.
Freeletics Review for the Bodyweight App
The app currently has over a 4.3 star rating in the Google Play Store and over 1 million downloads on the Google app store.
Some are reporting that it's a better workout program than Insanity and that it is helping them sculpt six pack abs. Users are also saying that the real bonus is how easy it is to use.
Freeletics is the name of the type of training you do, it's considered a sport by it's users because you can continue to use the app after you complete the coaching program.
As mentioned, the workouts are geared towards getting stronger and burning fat in a limited amount of time and space. It's dynamic HIIT routines include short, quick workouts that last a few minutes along with longer, running-based training that may take an hour to complete.
Disclaimer: Everyone is different – please don't compare yourself to others, at least not right away. Just track your own results.
UPDATE: Read our Review of Freeletics Running App
Why High Intensity Training?
High intensity interval training has been accepted by fitness professionals everywhere as one of the fastest, and most powerful ways to trigger fat loss and improve cardiovascular stamina, and improve body composition.
Doing short, max effort routines that engage the whole body has proven to be the most effective way to burn fat. HIIT is at the core of the sport and uses can  expect to see dramatic results with the Freeletics.
A typical intensity routine is shorter than an average cardio workout, about 20- 45 minutes. By engaging the full body in short, max-effort movements, the body metabolizes fat throughout the whole day.
Quick Note: The only difference between Freeletics and hiit is the amount of rest allowed. Freeletics promotes consistent effort throughout an entire routine, while traditional hiit routines mandate rest.
Freeletics: Free vs. Coach (Paid)
Freeletics app has 2 versions, a free and and a paid version called a coach. The downside to the free version is that users have to create their own workouts at their own pace.
Most people, especially new folks, are not accustomed to making their own workout which would make it harder for them to find what workouts to do and when.
Paid users will have a much more customized routine that will increase in difficulty the more the user develops.
Free Version Information:
Immediately get access to Freeletics fat burning and muscle building workouts
Highly effective 10-minute workout routines that will help you burn more calories than during a 30-minute jog
Access to fill out online profile
Access Freeletics news feed
Free!
Paid Coaching Version Information:
Access to a fully customizable program
Three different coaching options

Strength
Cardio
Cardio and strength combined

Customizes routines as users fitness levels go up
Fitness test is used to asses fit levels
Over 700 different training variations
Customize how many days you want to train
A whole new set of movements to increase difficulty
Freeletics Coach – Cost Breakdown
Starting as low as $13.69 (USD)
Payment for 3 months starts at $34.99
Payment for 6 months, starting at $59.99 (USD)

Paying for 6 months upfront will get you a 15%discount
Billed at $59.99, or $2.33 per week

Users who pay 1 upfront are billed at $79.99

Estimated around $1.56 per week
If you feel you need help with payment, just contact Freeletics yourself and explain to them what your situation is. They have mentioned that they are willing to work options out with users who need it most.
Freeletics Bodyweight App Features
All interval training apps try to cover the basics, which is having a few workouts, they all include a timer, and they allow you to track progress. OK, what makes this particular app standout is how they blend social media into their features, their tracking, and the ability to compete and share results with their entire community.
The Community
When you become a Freeletics user you can connect with other fitness enthusiasts locally and globally.
This means that you can go about your fitness goals with the support, advice and respect from a community of 2,000,000 plus free athletes.
Website and Platform
The Freeletics app also has a powerful online presence. The web platform allows you to get support, review your training history and edit your workouts at Freeletics.com
If you are a paid Freeletics user you can access the nutrition guide and recipe database to boost your performance and fat burning results.
Compete Against Others
In our opinion, Freeletics is the best interval training app is because it allows you to compete with others. You will find a leader board for every workout and you can check out your ranking and compete against your friends and thousands of free athletes around the globe.
Many of the advanced athletes who download the app find this to be the best benefit.
Think you're in top-notch shape? Test out your times against the world's best Freeletics athletes straight from your smart phone.
Workout Tracking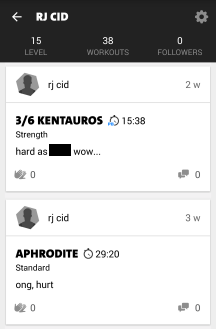 The Freeletics app allows you to easily track your progress and exact results for each workout. This means that you can accurately measure how you are progressing and see a graph of your fitness progress.
This will help to motivate you when you see a visual representation of your results.
The Freeletics app allows you to track your progress and your personal bests under your individual profile. As you continue on with the Freeletics training regimen you will become better, stronger and faster.
Interval Training Running App
Running becomes completely reinvented with the Freeletics app. Running consists of highly intense, max effort sprints with middle and long distance runs. Runs range from 40 meters to 2 kilometers.
The app allows you to always run with a goal in mind and a specific distance. You can always track your performance.
You will need a track nearby to do these workouts – it's best to know ahead of time so you can prepare accordingly.
Athlete Profile
The athlete profile allows you to showcase pictures and stats. The news feed gives you a cool, social media-like appeal. The community is very important and helps you feel like you are apart of a bigger group. Add your motivation to the profile so you see it every time you workout.
Over 700 Different Workouts
Most importantly Freeletics allows its community to access high intensity training with your bodyweight only. These workouts are short and extremely effective. If you are short on time and want amazing fat burning workouts – the Freeletics app is your answer.
Freeletics Testimonials
There are over a million Free Athletes out there, most of them rave about the app. Here's a quick look at some reviews:
Leave us a comment or question about Freeletics below!