The Freeletics Running app combines high intensity interval training in the form of running, to improve overall fitness levels, burn fat, increase speed, and improve endurance. Whether you are training for a long distance race, want to dominate your local 5K, or just get back in shape, this app is a quick, free, and easy to get started.
The Freeletics team designed each workout to both maximize fat-burning while improving each runners skill and abilities. The secret is that these workouts use interval training as the foundation of each workout. If you are familiar with the original Freeletics app (now the Bodyweight app) you know that this new Running program is a perfect running program to transform your body while turning while simultaneously making you the the athlete you were meant to be.
Freeletics Running is just one part of the Freeletics family, but it is the one part of the family that could help you get back to working out again the fastest. Within a few minutess you can download the app, thrown on your shoes and start running today.
Quick Links:
Freeletics Running Workouts Overview
The running workouts (using the free version) are listed in order of distance. Workouts start at 800 meters (875 yards), up to 2 kilometers (2,187 yards).  The distances are broken up with built-in rest periods. The amount of rest varies for each routine, but it can be anywhere from 30 seconds up to 4 minutes.
For example, the Seth workout has a total of 800 meters and 12 minutes rest. However, it's not just an 800 meter sprint as the routine is a combination of sets. This workout has 3 sets of 100 meter sprints, followed by 2 minutes rest, and then 2 sets of 200 meter sprints, with a 4 min break in between.
100 Meters
2 min
200 Meters
4 min
Each workout has a set number of points associated with it so once you are complete it, your points will be tallied and your level will reflect your point total. You are able to see your points when you look at your training profile.  This will help you see your progress for each routine.
The Freeletics Running app has a built-in accountability interface that shows you how you are doing. You know that you might not be very into running, and you also know that you need someone or something to get you back to running every time it is time to work out. You will be accountable to the app because it will send you reminders, and you can set it to let you know that it is time to run.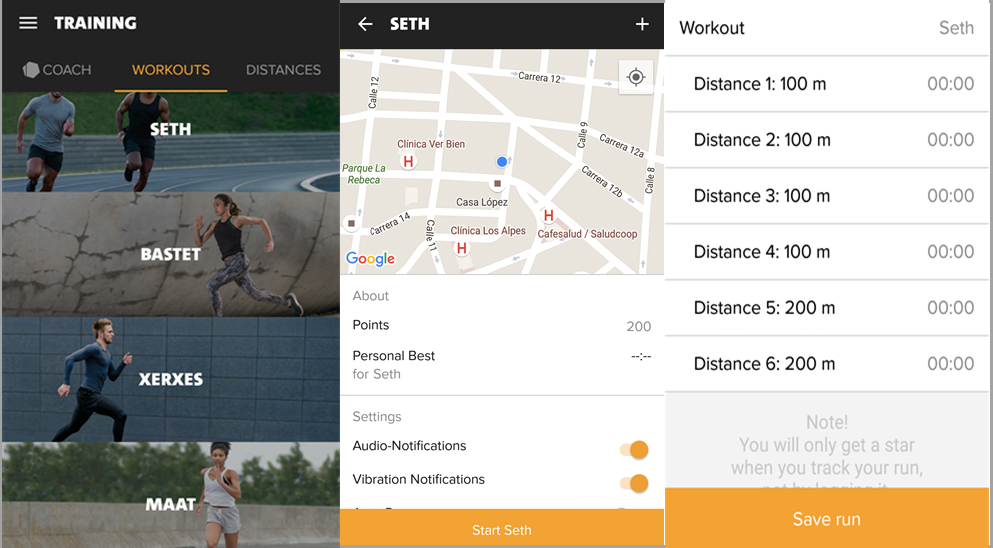 Advanced Tracking for Running Distance
The easiest way to track your distances is to find a local park with a track field as it is very simple to measure distance in meters here. However, not everyone has access so Freeletics Running app includes GPS tracking technology for each workout to help you measure your distance anywhere outside.
The tracking will help you make sure that you are getting stronger and stronger as you go, and you can update your information in the app to make sure that it is giving you the right workout program. Freeletics Running will keep progressing with you until you are at your peak performance.
The app will help you maintain that peak performance for as long as you want. You could reset some of your information in the app if you have an injury and need to take a break, or you might need to reset if you get pregnant and are now getting back to running after giving birth. Anything is possible, and you can adjust the Freeletics app as much as you need.
Getting Started with Running App
Once you download the Freeletics Running app, you will be asked to input 4 different types of information before getting started.
You will need to enter your weight, height, and gender. Next will be your fitness level on a scale of not fit to super fit. Then you will put in your background as a runner from not experience up to very experienced. Finally you select your training goal; lose weight, endurance, speed, or general improvement.
This information will be beneficial once you get the Running Coach, which will build a unique training program based on your answers.
Running App Options
N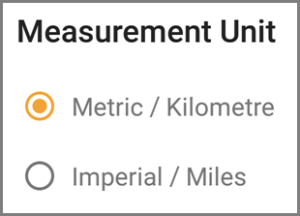 o matter what version you use (Free or Coach), you will get a profile that allows you include a picture of yourself. The profile section will contain your existing level within the app, the total number of runs you've completed, and the distance you've amassed while using the app.
You will have the option of selecting your preferred measurement unit; Metric/Kilometer or Imperial/Miles.
Workouts included in Free Version
In true Freeletics fashion, the workouts are mean to be done at high intensity for maximum results. Each workout includes a short to medium distance run with long breaks in between.
The free version currently includes 4 workouts to choose from:
Freeletics Running Coach Review
Freeletics' Running Coach is a personalized training program designed to take your current running and fitness skills to a new level, within your own abilities. Unlike other at-home workouts, the Coach is personalized so it works with you and does not make you feel like you are falling behind.
The running coach can be tailored to meet your own defined goals such as lose weight, increase speed or improve endurance. So if you are training for a 5K, a marathon, or just want to improve your overall fitness, the Running Coach can help you with that.
What to Expect from the Coach
Weekly training plan design to suit your fitness level and goals
Structured routines with specifics on how to master them
Access to all running routines
GPS Tracking for each run and more!
Running Coach Price and Payment Options
You have 2 options when buying the coach; a monthly fee or a 1 time yearly fee. The monthly cost is $11.90 USD while yearly cost is $73.48.
The motivation for a workout is very important because there are some times when you will not be able to get through the workout. This means that you need to be sure that you have something that will help you. You have to read the app every time to get the motivation that you need, and it will help you every time. Sometimes the motivation might be humorous, and other times the motivation will be very serious.
You can use the motivation any way you want, and you need to be sure that you are reading up on the app every time. Do not skip out on the motivation because it might be the only thing that you an use to get through the process.
 Freeletics Running Coach Workouts
You will have access to the routines listed above, plus an additional 8 routines.
Anubis
Thot
Osiris
Horus
Sphinx
Amun
Ra
Shu
Other Useful Links: