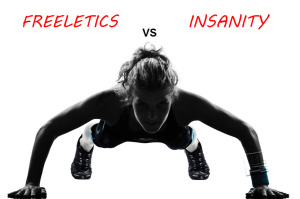 Looking to do an at-home workout routine that will help you burn fat and get fit? Maybe you've heard about Freeletics and you want to compare it to Insanity by Beachbody?
Obviously you want to know which product to use. If burning fat is your goal, you should find a program you like and agree with wholeheartedly.
Philosophically these are two very different programs. One is a 60 day challenge that will deliver some fantastic results, although the workouts are considerably difficult for beginners. Freeletics is a fitness app and a sport, a style of training that will help you burn fat, but overall, build a fit & powerful body.
Comparison Chart - Freeletics vs. Insanity
| | Freeletics | Insanity |
| --- | --- | --- |
| Price | Winner | |
| Best for Beginners | Winner | |
| Community & Support | Tie | Tie |
| Best Calorie Burner | | Winner |
| Length of Program | | Winner |
| Muscle Growth | Winner | |
| Total | 3.5 | 2.5 |
Beachbody's MO is selling pre-recorded set of workouts that follow a schedule for 30, 60, 90+ days. The program requires you only to have enough room to do squats, jumps, & short-range sprints.
So, what sets these two apart?
Freeletics' program is not a one-and-done type program. You can download it for free and follow any of their workouts at your leisure. If you upgrade to a coach, the routines & workouts get tailored to your speed and you personal abilities. Not many programs out there have this type of built-in awareness.
Price:
Currently the Freeletics is app is free. You get over 300 possible workouts with the free app. For those serious about attacking their goals, there is an awesome coaching version available for €39.90 ($52 USD). Insanity is currently listed on the Beachbody website for 3 payments of $39.95 ($119.85 total).
As far as price goes: Insanity $119 vs Freeletics $52 for Coach
Winner: Freeletics
Best for Beginners:
It's tricky to compare a workout routine like Insanity to the routines in Freeletics. When someone starts insanity, they just need to follow the road map and play videos on specific calendar days and follow the meal plan. Week 1 of Insanity, you have a fit test followed by 5 workouts, one of which is a "rest day".
The demand on the body is very high and if you have not trained before starting, you may find it very difficult. Insanity does set a high bar at the beginning, but the results are absolutely amazing!
Freeletics allows you to pick your own course depending on what your goals are. If you want to focus on strength, you can select these particular routines directly from the app.
You have the ability to select workouts, start keeping track of your progress using the app. If you upgrade and get a coach, the program changes to your abilities and allows you to steady improve performance while challenging you and still burning fat.
Winner: Freeletics
Community & Support:
Without a question everyone has heard about the Insanity workout as it's been one of the most viral fitness trends in the last few years. Beachbody has coaches that are paid commission for selling these workouts. There are many communities easy available for anyone following this program.
Although Freeletics only started to get popular in last 1.5 years, they have many strong and active communities on the web, for multiple counties.
Winner: Tie
Calories Burned Per Workout:
There are some who claim that Insanity can burn up to 1,000 calories per workout. While this is not necessarily verified, you can check out this calculator to see for yourself. If you really want to know, expect to burn somewhere between 400 -700 calories. This all depends on your weight and gender too, so take it for what it's worth.
If you look for how many calories you burn during Freeletics, you are probably missing the point of the sport. Each workout is different and depending on your skill level or your level of intensity, the amount you burn will be high.
Winner: Insanity
Length of Program:
Insanity is a 60 day HIIT workout program. You can pick and choose workouts to do on your own, but the idea is to follow along with the pre-set calendar. The high intensity aspect draws many into the program, but many tend to fall off soon after first 2 weeks.
Part of what sells Insanity is the fact that it's only a 60 day program. Also, due to this, the workouts tend to be compressed and beginners have difficult time adjusting.
Freeletics has a coaching program that creates a 15 week routine for you to follow.  You will begin by selecting your goals, you then do a fit test, and the app creates the routines around your talents.
Winner: Freeletics
Best Use of Tech:
Insanity is a series of workouts you do in a particular order for 60 days. These routines can only be viewed on CD's. Since BeachBody is very protective of their product so unless a friend lets you borrow theirs, you will need a DVD player or a computer that can play it, limiting your ability to take the workouts with you or do them anywhere.
Freeletics is an app! This app has over 500K downloads  10 million downloads in Google Play store. The app has videos of individual exercises you can download. The app comes with a timer, workouts, exercises, and runs you can do.
Winner: Freeletics
Best for Muscle Building: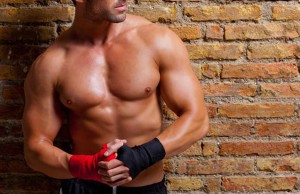 Insanity's workouts are specific high intensity training routines that are made to specifically burn fat & lose weight.
Each workout is designed to burn the maximize amount of calories. Fitness professionals typically suggest you pick either fat loss or muscle gain first.
There is some muscle effect, but it's more toning than actually building muscle. If you desire to build muscle, than Insanity may not be your workout.
Freeletics offers strength building workouts that focus on the whole body. Like Insanity, the routines will burn a lot of calories.
Freeletics will help train you more like an athelete does. Combining high intensity workouts with sprint & upper body movements, your muscles will react to the rest and stress positively.
Winner: Freeletics