Freeletics is a high interval training app (hiit for short) that combines full-body routines and exercises with running for a complete fat-shredding workout.  All workouts are designed to last between 5 and 45 minutes. Some take only a few minutes, but you can rest assure that it will kick your ass.
There are over 700 workout combinations available with the free app. The fun part is that freeletics workouts are named after Greek gods and goddess (Aphrodite, Metis, and Apollon to name a few).
This makes sense because anyone who finishes their 15 week coaching program will look like a chiseled statue of their previous self. All workouts come with video guides so you can see how moves a performed for both advanced and beginners.
More Than An App for Interval Training
People who are well-aware of high intensity workout must have heard the about the latest, and in our opinion, the best hit training app,  Read our Freeletics review.
Each workout routine is the same in the sense that you are not supposed to rest, and you need to go all-out for each movement. This training will significantly increase your cardiovascular fitness as well as help build lean muscle.
Freeletics is considered a sport, not just a workout routine. Why? Free athletes can compete with others and track performance. Even if you complete the 15 week coaching program, you can continue to do the workouts, make your own, or increase the challenges.
Freeletics Basics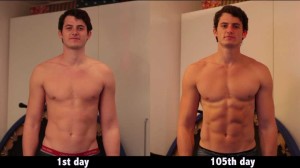 The program is currently getting popular because of mass response and its effectiveness among the bodyweight only genre. Think of the beachbody products like insanity or T25.
We actually reviewed Freeletics vs Insanity for you.
The program was co-founded by Joshua Cornelius, Andrej Matijczak and Mehmet Yilmaz. It is a trademarked, body training program available through the Google Play store and Apple Store.
It is a paid fitness package. However, the basic training package is available for free.
If you have access to these sites, then you can search and join the official community for latest updates.
This is a fitness start-up program designed for individuals with excessive weight problems. People with excessive body fat can get an athlete like figure with a predefined set of workout program comprised of mostly stretching, sprinting and other bodyweight exercise.
This training program can be conducted in outdoor parks, sports arenas, gyms or at home with no additional workout equipment needed for most of the high intensity training modules. Some exercise modules require a wall, a running track, and a pull-up bar.
The Freeletics program is commercially available to the worldwide fitness fanatics since 2013. The program also has its social presence on Twitter, Facebook, Pinterest, and Vimeo.
That is all you need for a complete Freeletics training program.
Freeletics Training – Getting Started
The beginning phase of the Freeletics workout program is intense and you should be prepared. You will be pushed beyond your limits. If you have never worked out before, or you have not done so in a long time, get a padded mat or towel for your hands.
Beginners typically start their free workouts doing the Aphrodite.
Quick Tip for Aphrodite: Be hydrated, use a mat or towel, and most importantly – TAKE YOUR TIME!
Too many people are injuring their wrists or hands because they are not used to the pressure or shocks!
Very similar to the fit-test in other programs, Aphrodite let's you see where you are and what you need to work on.
In this high intensity workout, faster you complete the whole workout plan the better is your performance. It usually takes more than an hour in the beginning but with daily practice, you can improve your completion time quite rapidly.
It won't be easy but it will be rewarding! #clapclap
Your First Week of Freeletics
During the first week, you should aim to workout 3 times at best. Depending on which routine you decide, you may only be able to do 1 or 2, and that's OK.
As you adapt to the intensity, you can increase the duration and minimize the break time for pushing up your limits.
The workouts you do are based on your goals with the program. Is it cardio or strength?
Although some of the routines overlap, the workouts that make up the coaching program are geared for different outcomes (strength, cardio, or both).
Secret to Freeletics: Tracking Your Personal Best or PB
Each workout you do with your phone is typically tracked. Each time you do a workout and improve, you will set a new personal best, or PB. Whenever you better your time, you will get a star! (Cheesy, but it works!)
Freeletics is a program that will push you beyond the limit, much like an athelete who is training for a race or a fight. You need to have an athlete-like mentality going in, and you will find yourself building agility and strength much like an athlete.
In order to look like an athlete, you must follow the highly intense workout pattern like the athletes follow.
This is the core of this hiit app. You can join a Freeletics training gym or a group of fitness enthusiasts for daily practice without any compromise and laziness that you are most likely to get trapped when you are doing this at your home.
If you have enough determination and a pre-set target to lose weight, you can definitely reap the benefits that this fitness program can provide.
Freeletics Beginner Workouts
You can get the free beginners workout plan by installing the  lite Freeletics app for iOS and Android devices.
The app covers the free workout plans. For the paid workout plans, you need to buy the pro app for this fitness program.
The paid fitness guide contains all the basic and advanced training modules with detailed description of goal-oriented training sessions. It is a 15 week workout plan with performance monitor tools and information of nutritious diet plans during each level of body training.
When you register at the official Freeletics website, you will get a weekly newsletter.
The newsletter contains relevant information and reviews from the people who have successfully completed the whole program. This will inspire you a lot in training yourself to a tight and toned figure.
Give your dear belly a final goodbye as soon as you start practicing this high intensity workout program. Set your goals properly and follow the right fitness plan predefined for your goal.
You can start by losing those extra pounds from your body and gradually move towards getting stronger and building up muscles.
You can follow the paid guide book for better training, assistance with goal-oriented plans. It helps you adapt to this highly intense fitness program and accomplish your fitness goals faster than you have speculated.