Want to know how to get started using Freeletics? Maybe you want to lose weight or become more athletic?
Want to know what the big deal is? For starters, Freeletics is one of the best fitness apps in the market. With over 1 million downloads and a 5 star rating, the Freeletics training apps are becoming one of the most downloaded apps for getting lean and fit.
Why Use Freeletics?
Freeletics is a great for people don't want to spend money on expensive personal training programs, who don't want to go to a gym, and who really just want to get into shape.
The workouts provided can all be done at home with minimal equipment and at a local park with room to run.
Getting Started Freeltics
Before you download the app and get started, there are somethings you should know off the back:
Freeletics has 3 training apps and 1 nutrition app.
Bodyweight – This is the original app created by Freeletics. It uses bodyweight only exercises such as push ups, squats, and sprinting in order to create a great HIIT routine.
Running – This is an extension to the bodyweight training app that creates short, intense routines by combining sprint workouts and short-distance runs.
Gym – Gym app is for the athletes who want to focus more on building muscle.
Download the app and setup your account. There are a few steps necessary to help build a small routine for you. The app will need you to select your sex, goals, and fitness levels.
Freeletics Onboarding Process: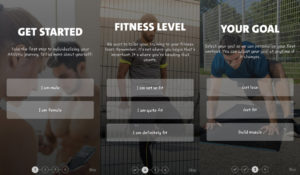 Step 1: Select Your Gender
Step 2: Select Your Fitness Level
Step 3: Select Your Goals
Step 4: Create Your Account
Once you've created your account you will get have a short-5 week tailored program using the workouts available.
Free Version – What Workouts Should You Do?
When you download Freeletics Bodyweght app, you get taken through a set of steps that will help modify a free workout routine just for you.
Consider: Are you currently active?
If you have not been active for a long period of time you may want to ease into training, whereas someone who has an active lifestyle won't have the same difficulties getting started. Remember, the workouts are supposed to be a challenge and if you are not currently in any real physical shape, you will more-than-likely need to focus on just finishing the routines.
Workouts Included in Freeletics' Free Bodyweight Version:
Tips for the Non-Fit and Absolute Beginners
Set Some Achievable Goals!
The workouts and exercises are meant to be a challenge! Many who try their first Aphrodite, won't finish. That's OK! This won't be easy, so make your goals reachable;
Finish 1 workout
Do 3 workouts in one week
Eat clean for 1 week
What If You're Unable to Finish?
If you find yourself unable to finish, that's OK! You know if you did your best, just shake it off, learn and expect to do better next time.
If you are using the Coach, depending on your fitness test results, you may feel that the workouts are easy, don't worry, they will go up in intensity and difficulty! The idea is to get you through each workout while you perform at max effort.
Don't Skip Stretching or Warm Down
Don't underestimate stretching. This is extremely important! HIIT workouts can really tighten your muscles up if you haven't used them in a while. Stretching after a workout and incorporating some yoga into your weekly routine will help alleviate the soreness and pain that causes beginners to quit.
Freeletics' Coach has warm-up and warm-down routines that should also be followed.
| Monday | Tuesday | Wednesday | Thursday | Friday | Saturday | Sunday |
| --- | --- | --- | --- | --- | --- | --- |
| Athena | Aphrodite | REST | Aphrodite | Mets | REST | Ares |
How Many Workouts Per Day?
Please know, you do NOT have to do all the workouts/exercises on the same day.
Does Your Workout Feel Too Short?
For example, if you get a 2/5 Metis, that means you only need to do 2 rounds of that workout. A standard routine will consist of 5 reps, but this depends on what level fitness you input.
You may be inclined to do more when you get started, that's natural. What you should consider is that you follow the program as stated and work harder on your food and meal prep at first. The people who succeed in getting in shape all follow a smart and lean diet plan.
Do not over-exert yourself as you will need to be ready to take on another Freeletics workout in a day or so. Yes, it will hurt and yes, you may need to take your time to do the moves correctly. Do it right first, then get faster!
How Many Days a Week Should I Train?
Do a minimum of 3 workouts your first week and try to increase . If you are already active and have another routine, just do the Freeletics one first as it's timed and you will want to give it your best effort each time.
Before you begin, you should know what to expect from a Freeletics workout.
Getting Started with Freeletics Coach
If you have decided to get the Coach, you are literally going to have your own personal trainer for 15 weeks.
Get Deep Insights on Freeletics Coach.
The Fitness Assessment
When you get the Coach, you will have a fitness assessment that's necessary to tailor the workouts based on your existing fitness level and desired outcomes.
You can select one of three possible overall goals; Strength, Cardio, and Both.
You will get to set your schedule as well, as seen in the image.
Tips for Getting Started With Coach
Freeletics recommends that non-fit athletes do their first work out immediately following the assessment!
Warm Up and Warm Down is included. The key to doing Freeletics is doing it correct and with proper form in order to prevent injury. DO not skip this! It's vital that you prevent any injury and warm up your body before doing any of the work outs.
Some workouts will be partial, such as 2/5 Metis. This means you will be given 2 rounds instead of the standard 5 rounds for this particular workout. Just keep at it! If you find it too easy, relax, you will eventually be challenged!
After each workout, you input how difficult it was. This is how you will tell the Coach to up the intensity.
Remember everyone, this is a marathon not a sprint! You should be consistent as Freeletics considers itself a sport more than just a 90 day weight-loss program.