Hermes is a heart pounding, fat-blasting bodyweight workout by Freeletics. By combining 20 meter sprints and pushups, this workout will have your heart rate pumping and burning fat all day! This routine is so intense, you will have 2 built-in rest sessions (30 and 60 seconds).
Hermes can be a fantastic way to improve your overall cardiovascular fitness. Make sure you are mentally and physically ready as the rounds get significantly difficult if you are hitting it at max level.
Tips:
You must approach the sprints with intensity! No fluffy runs, you must give it your 100% effort each sprint.
Drink a cup of coffee before, helps getting AMPPED for sprints!
Avoid injuries – Stay hydrated and take time stretching your glutes and pelvis.
Warm-down and  stretch after, very important to avoid cramps and injuries next day
Good luck!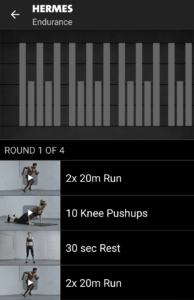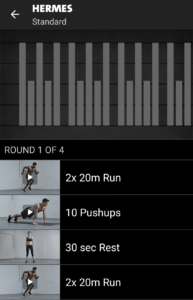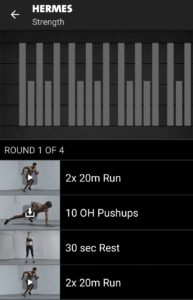 Endurance Routine
2x20m Run
10 Knee Pushups
30 Sec Rest
2x20m Run
10 Knee Pushups
30 Sec Rest
2x 20m Run
60 sec Rest
Standard Routine
2x20m Run
10 Pushups
30 Sec Rest
2x 20m Run
10 Pushups
30 sec Rest
2x 20m Run
60 sec Rest
Strength Routine
2x20m Run
10 One-Handed (OH) Pushups
30 Sec Rest
2x 20m Run
10 One-Handed Pushups
30 sec Rest
2x 20m Run
60 sec Rest