The Kentauros workout by Freeletics Bodyweight is a heart pounding, leg burning routine that will challenge your mental grit and physical stamina. This workout combines lunges, burpee frogs, and jump to both shape and train your abs and lower body. A full cycle through this routine consists of 6 rounds of 4 exercises. Although no equipment is required, you will need a track or strip of flat land to do the 20 meter lunges and frogs.
There is no rest period built into the routine, so you must push forward as you can and rest as you see fit. At first, this challenge is one of the longer routines provided. Your goal here should be to get through the routine as best as you can without quitting. As you progress in your fitness you will see your time improve.
Don't forget to stretch well after the routine as your legs will need it. Recovery and hydration will be important so do your best to drink water, stretch, and rest!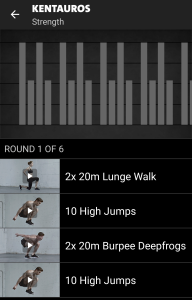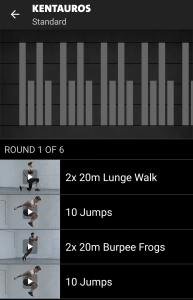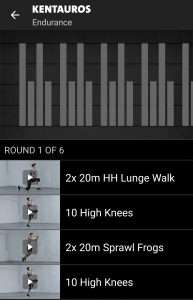 Endurance Routine
2x20m Hand-Helped (HH) Lunge Walk
10 High Knees
2x 20m Sprawl Frogs
10 High Knees
6 Rounds through
Standard Routine
2x20m Hand-Helped (HH) Lunge Walk
10 Jumps
2x 20m Burpee Frogs
10 Jumps
6 Rounds through
Strength Routine
2x20m Lunge Walk
10 High Jumps
2x 20m Burpee Deepfrogs
10 High Jumps
6 Rounds Through