Morpheus is a heart pounding, short-yet-effective, HIT routine by Freeletics. This bodyweight routine combines pushups, lunges, and jumping jacks to maximize fat burn in a short amount of time. No equipment is required for this workout, nor do you need a track or any real amount of space to complete.
A full cycle through Morpheus has 5 rounds of 3 exercises each round. Similar to the NYX workout, Morpheus increases reps during the middle of the cycle and then drops back down. Rounds 1 and 5 have same amount of reps, as does  2 and 4 while the 3rd round consists of the highest amount of reps for each workout. This is a traditional ladder set that increases and then decreases in reps.
Double check your technique as many tend to skip the proper form for pushups – hands off the ground! Also, lunges tend to be more effective if you go slower to make sure your technique is proper. Yes, you will finish faster than you expect, and that's OK!
The real challenge will be maintaining speed during the jumping jacks – they tend to hurt around round 3!
Each time you should be getting faster.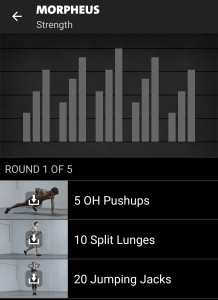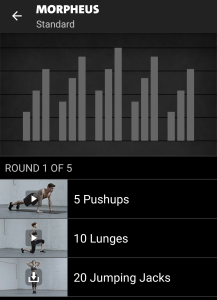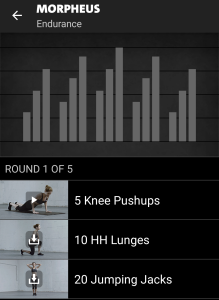 Endurance
Knee Pushups
HH (Hand-Helped) Lunges
Jumping Jack

1st Round: 5/10/20
2nd Round:7/15/30
3rd Round: 10/20/40
4th Round: 7/15/30
5th Round: 5/10/20
Standard
Pushups
Lunges
Jumping Jack

1st Round: 5/10/20
2nd Round:7/15/30
3rd Round: 10/20/40
4th Round: 7/15/30
5th Round: 5/10/20
Strength
One-Handed (OH) Pushups
Split Lunges
Jumping Jack

1st Round: 5/10/20
2nd Round:7/15/30
3rd Round: 10/20/40
4th Round: 7/15/30
5th Round: 5/10/20