Everyone needs to learn proper nutrition methods in order to burn fat, have energy, and sustained results.
Chances you think you know what "nutrition" is, but – like most of us – you need a thorough explanation on how to eat and what to not to eat in order to burn fat, lose weight, and maintain a healthy bodyweight.
Have you tired of working out for a few weeks, losing weight only to gain the weight back? The dreaded yo-yo effect. The main reason this happens has more to do with eating habits vs physical exercise.
See, burning fat requires more than just working out, it requires a smart nutrition plan. By learning the basics of how your body works, you can train your body to be in fat-burning mode all day long.
Our nutrition plan was created to help you get maximum results while doing Freeletics workouts. Even if you don't continue, our plan will help you find results.
Nutrition Guide + Freeletics Can Create Amazing Results!
My name is RJ Cid, I helped create this site and guide!
About a year or so ago I started really getting into Freeletics, however, my diet was terrible! I was drinking, eating too much, and was completely unhappy with my results.
I knew something needed to change!
So I started eating 'healthy' but something was wrong. I was hungry almost all the time! I didn't have the energy to finish most of my workouts and I wasn't really looking as lean as I wanted to.
So what changed?
I started reading and doing my own research about fitness and nutrition. In that time, I became a big fan of the Low-Carb High-Fat style of eating, LCHF.
From here my understanding of how food is used for energy, how sugar makes us fat, and how to control my insulin significantly helped me maximize my fat-burning workouts by Freeletics.
From there I created this ebook to help you learn the basics as well!
Why Most People Fail to Lose Weight and Keep It Off!
Confusion – People just don't have the right information or too much information.
Workout-Based Results – There's a  group of folks who depend on at-home workouts or short 90 day routines to do all the work for them. The workouts, like Insanity, are highly effective in burning fat but are unsustainable and difficult for everyone to finish.
Lack of Measuring – You cannot change what you don't measure! One reason people stop is the lack of visual results – too many don't understand how the body changes and the timeline. By implementing a weekly check-in, you can measure the changes and stay motivated to keep going.
What To Expect From Guide
Learn how to burn fat all day long
What to eat in order to maximize workouts
Exclusive 30 day meal plan
Learn how protein, fat, and carbs really work
Shopping list
Why sugar is the devil
Learn about good fats vs bad fats and how to tell them apart
Quick guide on reading product labels
How booze affects training and what to do about it!
…and more!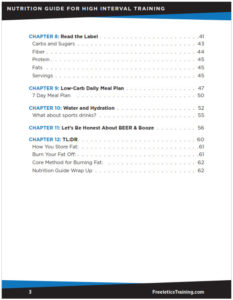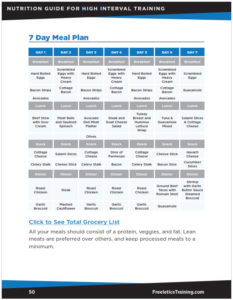 Why We Created this Nutrition Guide
We created a nutrition guide for anyone doing HIT training like Freeletics Bodyweight. Using the latest studies on health, we feel the guide is a must-read for anyone looking for a high-level introduction into healthy eating.
Your real challenge isn't any of the workouts, those may pale compared to changing your eating habits! As the guide states, the workouts are not easy, but burning fat is!
Disclaimer: Our guide is NOT the same as the one offered by Freeletics, rather one we created ourselves with the same principles.
SIGN UP AND DOWNLOAD FREE NUTRITION GUIDE BELOW!