The NYX workout by Freeletics is a bodyweight workout is a core and ab routine that will test your strength and stamina. One of the shorter routines, NYX combines crunches, leg levers, and standup exercises in order to take your core fitness to next level. Consisting of just 3 rounds, you should be able to get through this routine in relatively short amount of time.
Although this can be finished quickly, don't think it's easy! The routine will blast your mid-section and test your core, especially the leg levers. Both first and last rounds consist of just 10 reps each, however the 2nd round will be 25 reps each exercise – so be ready for a painful 3rd round!
There is no rest in between these sets and there is no equipment needed, so just get to it! If you need rest take it, however, don't do more than 10 seconds as there is little time to waste.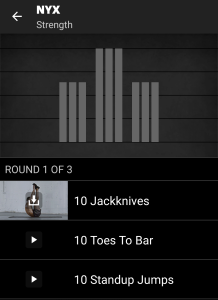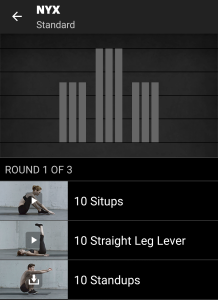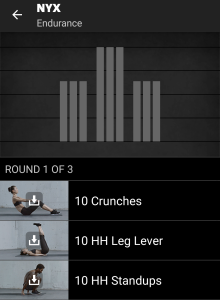 Endurance
Crunches
HH Leg Lever
HH STandups
Rounds: 3
Standard
Situps
Straight Leg Lever
Standups
Rounds: 3
Strength
Jackknives
Toes to Bar
Standup Jumps
Rounds: 3