Prometheus is a total bodyweight workout by Freeletics that will force you out of your comfort zone and into a fat burning zone. This routine consists of 5 exercises (froggers, pushups, situps, squats, and jumping jacks) with 1 built in rest period. One cycle of Prometheus is 5 rounds through.
This is an inverted ladder routine as your first and last rounds have the highest amount of reps and the 3rd has lowest (it drops by 10 2nd and 3rd round). If you consider yourself somewhat in good shape, aim to complete this workout within 20 minutes. The jumping jacks at the end of each round will always be 50 reps, make sure you go for it!
The order of the exercises focus first on your upper body (climbers, pushups, situps) and then it follows up with 2 lower body ones (squats, jumping jacks). By breaking it up this way, you'll be able to work the entire body more easily.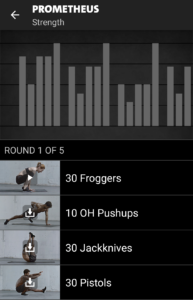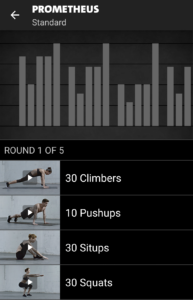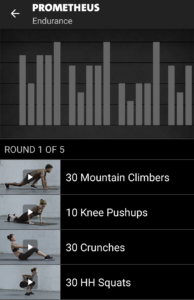 Endurance
Mountain Climbers (30, 20, 10, 20, 30)
Knee  Pushups (10, 7 , 5, 7, 10)
Crunches (30, 20, 10, 20, 30)
HH Squats (30, 20, 10, 20, 30)
Jumping Jacks (50 each round)
Rest
Rounds: 5
Standard
Climbers
Pushups
Situps
Squats
Jumping Jacks
Rest
Rounds:5
Strength
Froggers
One Handed Pushups
Jackknives
Pistols
Jumping Jacks
Rest
Rounds:5