We have been using the Coach for over 2 years and we have a good Freeletics review that you will find useful.
We keep seeing this question over and over, is Freeletics Coach worth it? or, Will it work for me?
There are MANY people struggling with Freeletics who are wondering this exact same thing. Does this mean that Freeletics Coach isn't for them? Not at all. This has more to do with your inner talk than anything other people are experiencing.
If you are looking to join Freeletics to get into shape, but you've been inactive for sometime – it's going to be a challenge. The free version or coach version doesn't matter – if you are out of shape, even if you do yoga, it's going to suck.
COACH UPDATE:

Freeletics workouts are going to challenge your physical and mental comfort zones, so it's not if the coach is right for you, but, are YOU right for the coach?
What kills you can make you stronger… right? There are countless of examples of people pushing through and getting amazing results. The truth is, this may be an easier road for some and that's OK.
Getting Started
Before you invest your hard-earned cash into this workout program, you should know exactly what your goals are. So, what are your goals? Before you begin ANY workout program, you should know WHY you are doing it. Many who have have the coach already knew what they wanted, below are some of their goals:
Lose weight
Gain Muscle
Stay Fit
Improve Overall Fitness
Prepare for a Mud Run, Marathon, etc..
Have this in mind before you start, you are going to need it when you enter your information into the coach.
Physically, Are You a Beginner?
Freeletics is not a workout, it's not a DVD you play on your laptop – this is a sport!
When done correctly, it get you in shape much like doing Crossfit or gymnastics will. Like these sports, it will take time to get good at them, but once you have done it for a few weeks, your body will see tremendous changes.
Focus on getting started! Don't think about how short the workouts are, how little you think you're doing – just stick with the program! If you want to learn to swim, you wouldn't expect to get going until you've mastered the basics. Same here.
Having your goals is great, but remember, this is not a race, this is your life and if you want a great-looking body – which will take time. So be patient,
Also, whether you are a beginner or not, after reading about injuries on reddit, you should be thinking about recovery and nutrition throughout any workout.
We were all beginners at one time!
Can You Do Freeletics Without the Coach?
Doing Freeletics without the Coach is possible, however you will need to be well versed in training to be able to put together a training program that you can follow to suit your fitness goals. Freeletics Coach takes the guessing out and has been designed to suit your specific training goals and needs.
Bottom line, if you want a free Coach, you will need to pick a few workouts to do a week and structure it so you can get the right mix of training, intensity, and cardio to build your body how you like.
Will Freeletics Coach Help Me Gain Muscle?
I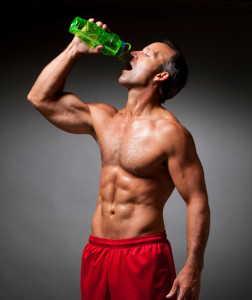 f muscle gain is your goal, Freeletics can help you get there – fast!
Why? As mentioned in the free nutrition guide, high interval training by Freeletics builds lean muscle naturally. The high repetitive movements put a lot of strain on muscle fibers and stimulate cell development.
Building muscle by doing bodyweight exercises takes sometime, however, your diet will need to be adjusted so you make gains.
One difference between Freeletics and other HIIT programs is that Freeletics workouts focus much more on building muscle. For example, if you want to gain muscle, you don't do Insanity – maybe p90x, but definitely not the other. However the Freeletics Coach combines your current fit level with a number of strength & cardio exercises that will develop muscle.
UPDATE: Freeletics has a GYM workout app that involves weights! Check it out!
Will the Coach Work if You're Skinny?
Yes! This is not meant to make you a skinnier! If you are fat, then you will burn that fat and use it to build muscle. If you are skinny, you will build lean muscle as a result of Freeletic's high intensity interval training.
The only thing you may want to do if you are looking to gain weight is eat more! The truth is, no skinny person got shredded and buff by not eating. If you get the strength Coach, you will gain some pounds if you eat correctly.
Don't think you will just do the workouts and eat and gain weight. You still need to do your homework and learn your own biochemistry in order to produce the result you want.
Looking to Just Lose Weight?
Freeletics offers an easier level of training, the endurance level. This level includes modified exercises so you can complete more reps, faster. Being able to do more reps, although using less of your body, you are able to keep your heart rate going and get through a workout faster. The modified movements will be easier to get through, however, it's the strength workouts that will really burn fat up.
Freeletic's Strength Coach is for athletes who can do at least 5 pullups un-assisted. The pullup is an amazing movement that, when done at max reps, can really build the upper body nicely. Your heart rate may slip when performing pullups, but know that this movement includes almost your whole body. The more muscles involved in a workout, the more fat you can burn.
How fast you burn fat will be up to you and your diet.
Sign up to our email list to get our Free diet and nutrition guide.
Be Honest, Do you smoke?
Surprisingly, there are a lot of people who want to get a new and active lifestyle but they currently have vices like smoking and tobacco. These are hard addictions to quit and they add a significant challenge to your success.
Freeletics will make your lungs work just as hard as your legs and arms. If you are a life-long smoker and have issues breathing, the workouts may do you some good, but don't push it if you cannot breathe. For those who have a habit, it's recommended you 1, see a doctor before any activity, and 2, start walking.
Smoking and being inactive means your muscles don't get the oxygen they need to perform normally. By doing squats or burpees, you are going to squeeze the little juice you have and increase risk of injury.
Try walking 10-20 minutes a day in the morning, stand vs sit at your desk. Find ways to start moving without putting much pressure on your lung capacity.
While there is more to this particular subject, it's recommended that you start with baby steps if you are a serious smoker. A new lifestyle is harder to get if you have unhealthy habits like smoking.
Is the Coach Necessary?
This question gets asked a LOT! Our best answer is, YES! Why? Because Freeletics will customize a 15 week program specifically to your goals, current physical shape, and availability. If you decide to only use the free version, that's fine, but you will need to schedule and create your own daily routines from the top of your head.
You don't get the benefits of doing hell weeks! These are weeks that are designed to peak your training every 4-5 weeks so you can really dig into your body and get more from the coach. These hell weeks are designed to test your current physical state and push you to the next level of training. The coach will mix 2 workouts in one training session!